PetzLife 018VL01-S4 VetzLife Oral Care Gel Salmon- 4.5 oz.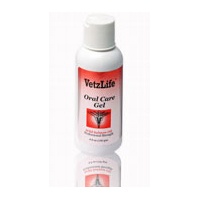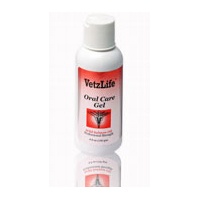 Our Price:
$23.29
You Save $6.99 (30.01%)
---
Manufacturer Part #: 018VL01-S4
Lead Time: 3 Days
Size: 4.5 oz
Estimated Shipping Cost: $7.73
VetzLife Oral Care Gel is a palatable 100% natural product that kills bacteria on contact, significantly reduces the plaque and tartar buildup on pet's teeth. VetsLife Oral Care Spray reverses oral disease and may be used on cats or dogs. Available in two flavors, Salmon or Mint.

Dosing.

Pets under 12 lbs: 1/4 teaspoon.
Pets 12-35 lbs: 1/3 teaspoon.
Pets 35-60 lbs: 0.5 teaspoon.
Large Breeds: 1 teaspoon.
Directions:
For the first 2 weeks use twice/daily if there is a heavy tartar build-up and/or red inflamed gums are present. Otherwise, one application per day is normally all that is needed for moderate buildups.

After 1 to 2 weeks, inflammation should subside and breath should be greatly improved. Generally, after 30 days, you can reduce applications to 2 or 3 times weekly for maintenance.

For best results, withhold food and water 30 minutes before and after applications. Nighttime is best so that VetzLife Oral Care can work all night.

Brushing is not necessary but it will help accelerate the desired results. The brushing action helps remove plaque and tartar that already has been softened. Use soft or finger brush or use a piece of gauze or tissue and wipe the teeth after 8 to 10 days You will be amazed at how much of the plaque and tartar will come off.

Easy To Use Gel Application Tip.

If your dog does not want you in their mouth, just pat some gel on the outside of the lips and they will lick it, especially for small lap dogs; or, place a smear of peanut butter on their dish and squeeze the "Oral Care Gel" on top.

For cats, put some gel directly on top of paws or on top of hind legs and they will lick it off.


Ingredients: Grapefruit seed extract, Grape seed extract, Thyme oil, Neem oil, Rosemary oil, and Peppermint oil.
You May Also Like